Artists/Speakers/Comedians

Displaying 8 entries for "Artists/Speakers/Comedians"
---
Artists/Speakers/Comedians
(Featured listings displayed first)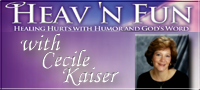 Heaven Fun Comedy
Healing Hurts with Humor and God`s Word
PO Box 2980, Arnold 95223
www.heavenfun.com
209-795-3502
Cecile was by far, the best speaker we have ever had.
I felt as if I had known her my whole life. She was funny, engaging & she had our donors captivated. It was the first time a speaker had received a standing ovation. - Jackie, Eastern Shore Preg.
Child of Mercy Ministries
Denise Bridges | Singer, Songwriter, Speaker
Northern CA
www.childofmercy.com
408-313-8446
Crimson Blues
High Octane Christian Blues. Ask about our Promo Packets!
San Jose
www.crimsonbluesband.com
408-564-9576
His Image Music Ministries
Featuring Hip Hop Artist CJ Emulous and Singer Psalm Bird.
www.his-image.com
707-437-1332
Laurie Roldan - A Voice To Comfort
An inspirational singer bringing hope for all occasions
www.laurieroldan.com
925-286-4377
Lyrical Opposition
A Missional Art Community Unifying the Church Body
San Francisco
www.LyricalOpposition.com
415-359-5540
Spire Entertainment
Featuring Hip Hop Artist Transparent
Northern CA
www.spireent.com
916-425-3529
Stephen B
Clean, Funny Stand-Up Comedy for Any Event
Northern CA
www.stephenb.net
916-548-5788
---